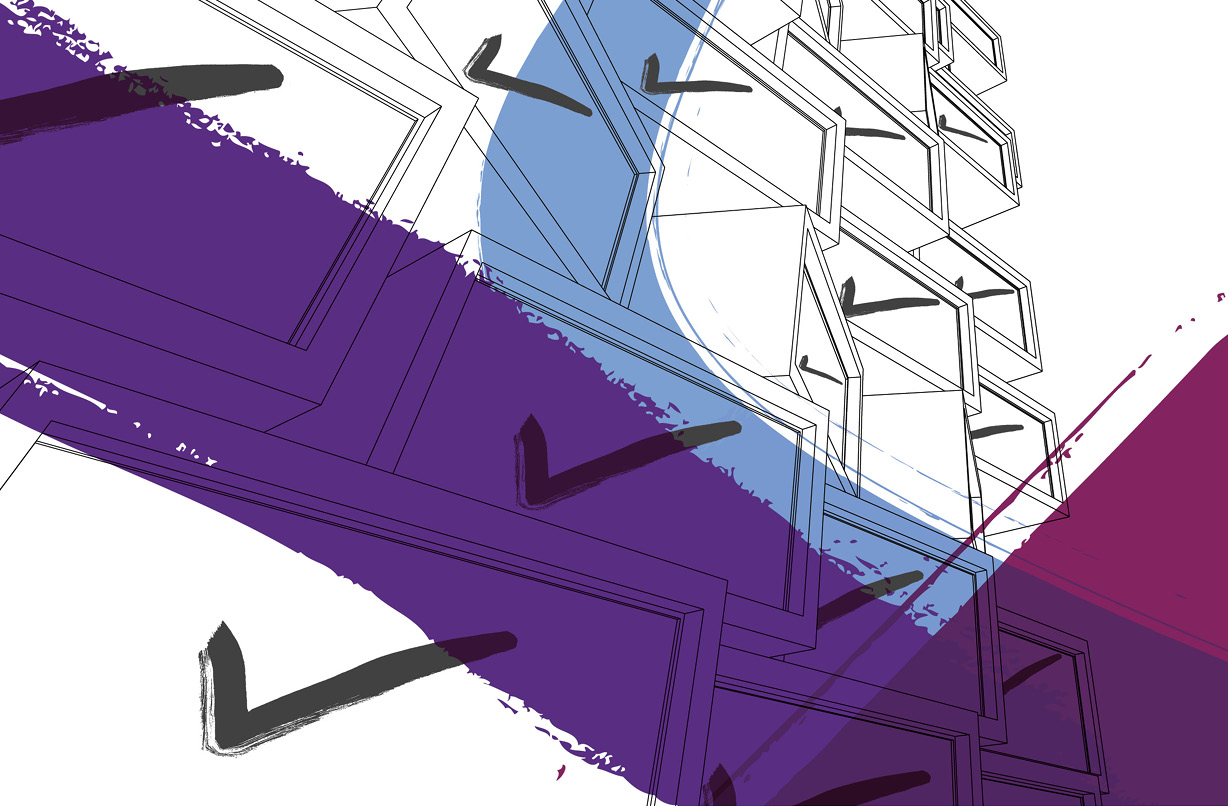 Going beyond the tick box approach to consultation
Consultation, it would appear, has become something of a dirty word, at least among built environment professionals who think deeply about housing estate regeneration.
"We call it engagement these days rather than consultation because it is more accurate in terms of how we talk to residents," Paul Karakusevic, partner at Karakusevic Carson Architects, which recently completed the award-winning Kings Crescent Estate regeneration in Hackney, east London. "In the old days you would do three consultation events – one at the start, one in the middle and then one just before you went in for planning. Nowadays it's an almost constant dialogue."
Engaging with residents early-on
Finn Williams, who previously worked for the Greater London Authority but now heads up Public Practice, an organisation that matches talented private sector professionals with local authorities in need of additional support, agrees. "The very word consultation presupposes that you're consulting somebody on something that you've already come up with and that is the core of the problem," he says. "As long as consultation is reactive in that you're putting something forward and asking somebody if they like it or not, you're on the back foot from the beginning."
In November 2018 Metropolitan Thames Valley Housing (MTVH) became the first housing association to secure a positive "Yes" vote in respect of the regeneration of an estate in Barnet and in accordance with the Mayor of London's Estate Regeneration Resident Ballot policy. 75% of residents voted in favour of the regeneration proposals.
Key to this result was the adoption of early, consistent and honest engagement says Geeta Nanda, Chief Executive at MTVH. "The positive ballot vote in Barnet involved over 12 months of fluid and iterative engagement with residents, adapting our engagement approach to suit the individual needs of our residents. The resources necessary to support the engagement could not be underestimated. Meticulous planning, collaboration across stakeholders and creating an environment that promoted positive challenge ensured the project team were wholly committed to the exercise."
The introduction of resident ballots, for some, adds further uncertainty to an already complex and emotive subject and Nanda adds that "grassroots engagement should be part and parcel of regeneration projects; when done in the right way, the value and benefit to the project and community is invaluable."
Experts agree that it is vitally important to engage with residents as early as possible and certainly before anyone has any preconceived ideas about the approach to take, much less details such as design. And that, says Riette Oosthuizen, partner at HTA Design, is particularly important when demolition and rebuild may be a possibility.
"In the cases where we have been working with clients before a JV partner is brought on board and complete regeneration is a possibility, it always helps to do engagement right from the beginning,"
she says. "It always helps if the client has a very clear offer to residents on the table. Right from the beginning you need to be able to answer questions about what will happen to people, whether they have the right to return, whether they will have the same neighbours, whether they be allowed to have a dog… all those questions need to be answered."
Having solutions to the details builds trust
And that level of detail needs to be discussed with residents when it comes to identifying a solution and at the design stage. "We talk to them about what they would like, whether that's refurbishment, part infill, renewal…" says Karakusevic. "It's about what they want and need in terms of rehousing, what size of apartment they want, what type of neighbourhood they want to live in, what types of streets and places, materials… everything is discussed many times."
Engagement must also involve addressing existing concerns, says Hannah Loftus, director and co-founder of architect HAT Projects. If residents aren't happy with how an estate is being managed, they will have little trust in anybody seeking to bring forward a regeneration proposal. "Estate maintenance and management are fundamentally linked to regeneration and development," she says.
"What's important for local authorities, housing associations and other providers is to realise that from the resident's perspective, they don't have much trust in a regeneration process working out well when they can't get rats removed or broken locks fixed. The fact that the management and regeneration processes are run by completely different teams out of different budgets is meaningless to residents, and the whole needs to appear seamless and integrated."
Geoff Pearce, Executive Director of Regeneration and Development at Swan Housing Association supports the idea of building trust at an early stage. "There will always be some predictable concerns and it's well worth having answers ready for some fundamental principles before starting the conversation with residents. What guarantees can you give on rents? What will be offered to people that are overcrowded or under occupying? What compensation package will you be prepared to offer to both tenants and leaseholders? If these assurances can be given at the outset it can go a long way towards establishing trust."
Pearce however warns of going too far in your planning before the engagement process begins. "Turning up to an initial meeting with architects presenting their plans is a complete no no; the community will feel disempowered and will be highly likely to reject your proposals. In fact I'd involve the residents in as many decisions as you can, including the selection of the architects, their independent advisors and if appropriate any delivery partners that may be brought on board. The more residents feel that they are steering the process the more likely they are to vote in favour of the scheme."
Pearce goes on to point out that these processes require significant resources, from full-time dedicated project management and community involvement teams through to senior level involvement and commitment from your organisations leadership and Board. "Residents will want to see that the promises being made are serious and given with full authority. They also take time; trust is hard won and easily lost, but if managed correctly the process can be hugely empowering and developmental for communities which can only bode well for long term community cohesion."
Keeping residents interested and engaged
In addition to empowering residents to get involved in coming up with a bespoke solution for their community, engaging early can also mean that they remain wedded to the project and don't suffer regeneration fatigue. Major estate regeneration projects, after all, can be many years in the making. "I think that if you involve people and invest in engaging people at the earliest possible stage you shift the expectations and the plans in ways that are actually likely to encourage further engagement," says Toby Blume, co-founder of consultancy Social Engine, a specialist in community engagement.
Being honest and realistic is also key to success so far as Blume is concerned. "Local authorities have particular priorities that should relate back to what communities want, but it's not to be naïve and assume that communities can have everything or indeed that communities have a single view of what they would like," he says. "You need to have an open, honest dialogue running through the process. The form that takes will vary considerably depending on the nature of the community, the level of integration or cohesion that exists, the finances, the affordability, people's willingness to get involved and so on."
That chimes with Steve Sanham's experience. The managing director of developer HUB, whose approach to engagement on large-scale development projects has been roundly praised, says that early engagement is critical if communities are going to support a project, which may well be disruptive, from start to finish. "If you undertake a process where the first time you meet people is standing in a hall in a pin striped suit with a load of boards up, you're only going to get one response: there will be a backlash," he says.
Instead, HUB's approach is to start talking to communities about their concerns for their area: what's working, what isn't and what their aspirations are. At the very beginning of the process, he says, conversations can be about pretty much anything, including issues such as rubbish collection that a developer has little ability to influence. The point is that it is a genuine and honest dialogue that recognises that people coming in from the outside are highly unlikely to understand local concerns if they don't have an open mind.
Sanham is also well aware of the reputation that developers have among many parts of society. Confounding expectations isn't just the right things to do; it will also help smooth the development process. "There is massive mistrust of developers and it's our fault," he says bluntly.
"But our approach at HUB is that we're never scared of having honest conversations. If we're having honest conversations with people then we've always got the fact we are being honest to fall back on."
According to Oosthuizen, physically taking groups of residents to visit examples of successful estate regeneration can also reap dividends: seeing something in real life can be far more effective than pictures or visualisations. "Something that really creates trust is if you take residents around to other places," she says. "We quite often talk about planning officers not having sufficient design skills and not understanding drawings, so how can we expect residents to understand abstract boards that are put in front of them assessing options?"
And that doesn't just mean showing people the outside of buildings – they need to understand what it would be like to live inside them. "They also need to understand what the inside of buildings will look like," says Oosthuizen. "So often we show people pictures of the outside of buildings, but actually it is the inside that matters. What will these spaces be like?"
On-going communication is key
But the consultation process cannot just come to an end once a developer or contractor has been appointed. "We take it a lot further through the establishment of community boards where we have residents that join us as the developer, as well as ward representatives, maybe a local vicar and any other interested parties," says Mike Woolliscroft, director for the Partnerships South division of Countryside Properties.
"We meet on a frequent basis to help with the communication with the rest of the community. It's broader than construction, it could be about addressing a social issue. You need to put in place a decent website and boards, have resident liaison officers; employ people to interface with residents. There are all sorts of ways in which you can communicate. Community boards are a good way to communicate and get feedback."
So, it is abundantly clear that thinking about estate regeneration has come a long way in recent years. If there is a common theme, it is that the best approaches focus remorselessly on residents' concerns and aspirations, while at the same time ensuring that expectations can be managed effectively. And that, surely, is a positive development.