Public perception of regeneration
is more positive than you may think
Charts on this page may be difficult to view on smaller devices. You can download a PDF version using this button.
That at least is the suggestion of a snapshot of public opinion undertaken by YouGov for Trowers & Hamlins. The survey of over 2,000 members of the public found overwhelming positive sentiment around the potential of estate regeneration to improve homes, neighbourhood and communities.
However, it reveals a perception of very limited involvement in the consultation and development process, with just 11% agreeing that existing residents are always told about any plans, and how those plans will affect them (Figure 1A); only 9% agreeing that existing residents are always consulted about any regeneration plans well in advance (Figure 1B); and only 4% saying residents are able to influence the outcome of a development (Figure 1C).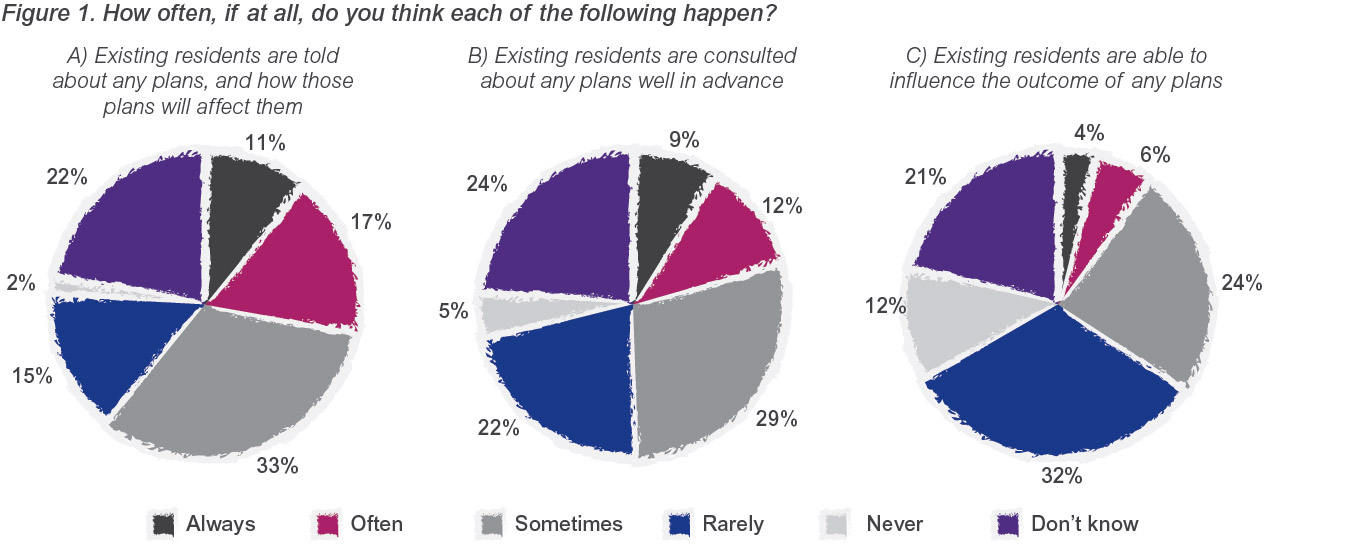 This suggests a very strong public perception, rightly or wrongly, that estate regeneration is something done to residents, rather than with residents, and that the majority of consultation carried out does not properly engage residents in the plans.
But when it comes to the potential outcomes of estate regeneration, the survey's findings are considerably more positive.
According to the survey, 69% of respondents broadly agree that council housing estate regeneration has the potential to create better quality housing for existing residents (Figure 2A), while overall 53% broadly agree that it can create mixed communities and better neighbourhoods (Figure 2C).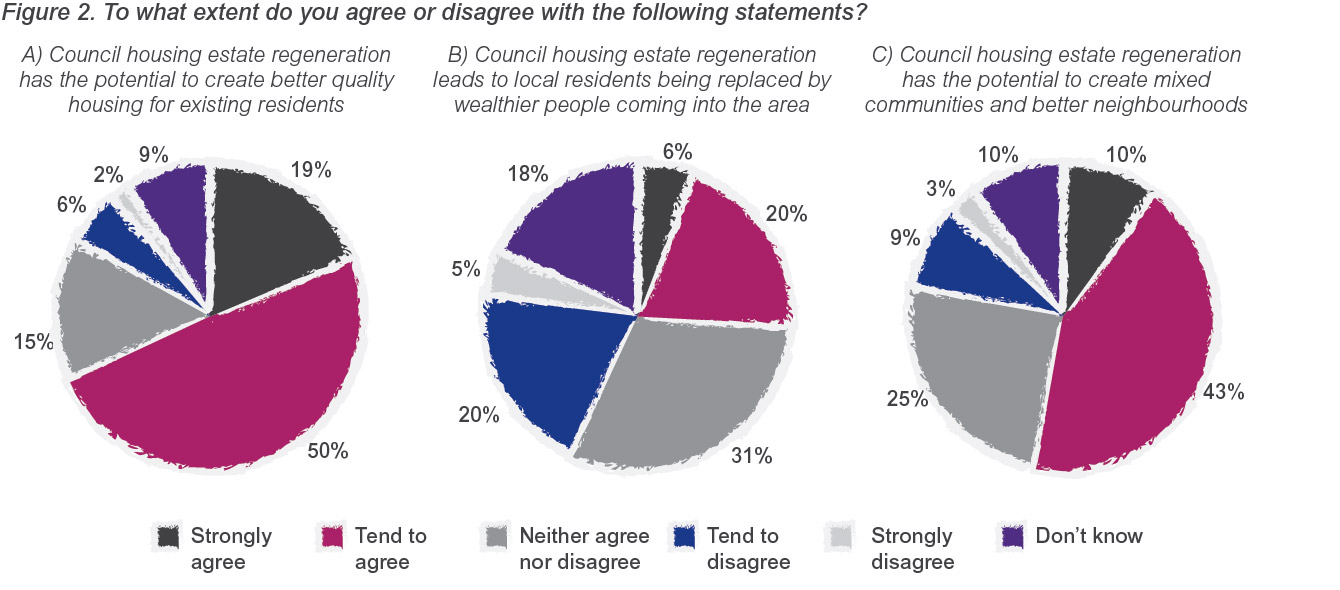 And respondents are less certain that council estate regeneration leads to gentrification – or "social cleansing" as anti-regeneration campaigners put it. Only 26% of respondents agree that regeneration leads to local residents being replaced by wealthier people; although the results are tempered by a high percentage (49%) who are either not sure or don't know, reflecting a degree of uncertainty about the outcome.
Overall, 62% of respondents had a positive view of the outcome of council estate regeneration, against just 8% who had a negative view (Figure 3).
Of course, this survey reflects general public opinion, rather than specifically those residents of council housing estates or those who have specifically been involved in a regeneration development of an estate.
However, it does counter the negative narrative that has built up around the estate regeneration process, supporting suggestions that the strong anti-regeneration message from campaigners, amplified by a sympathetic media, could be skewing perceptions.
This view is also bolstered by the outcome of the first two ballots undertaken since the Mayor of London made voting by residents on estate regeneration plans that involve the demolition of homes necessary if a scheme is to receive Greater London Authority funding. Both ballots of residents and resident leaseholders came out in favour of the regeneration plans, a shot across the bows of those who presuppose that residents always oppose regeneration.
The Trowers & Hamlins YouGov survey shows strong support for the idea of ballots, with 79% agreeing that local people should be able to vote on plans for estate regeneration and only 7% opposing the idea (Figure 4B). Unsurprisingly, most support was for council housing tenants and residents who own their homes – the two groups who are allowed to vote under the Mayor's policy (Figure 4A).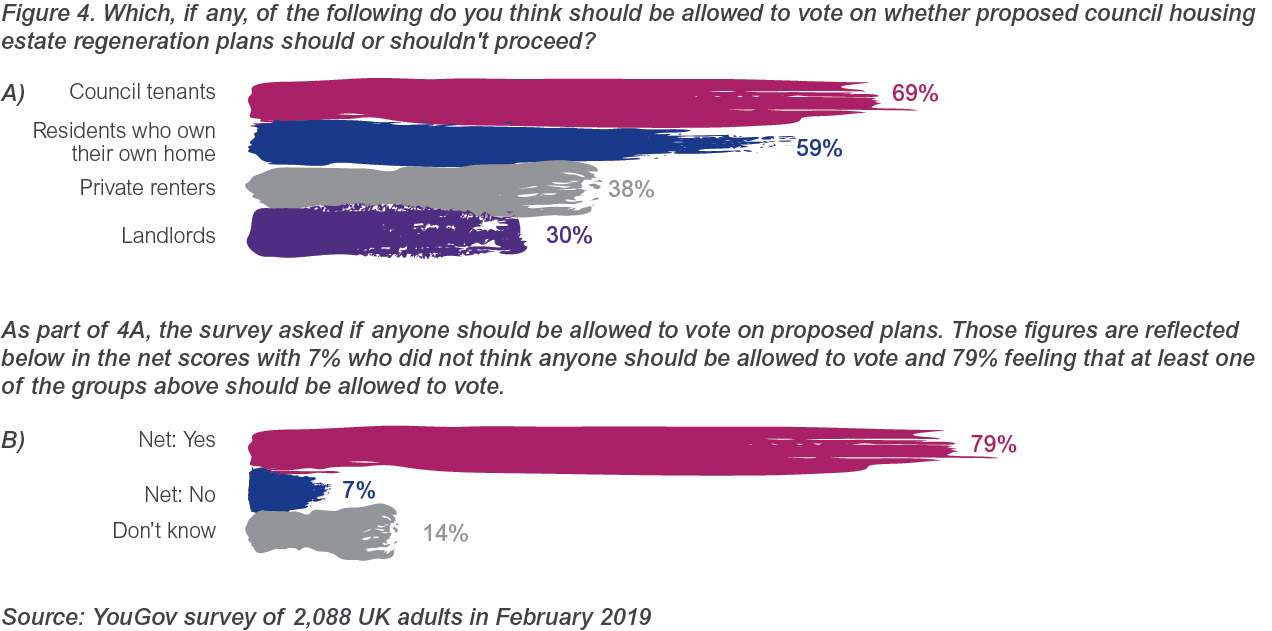 Overall, the survey suggests that developers and their partners could do much to tackle the perceived 'toxicity' of estate regeneration if they focus resolutely on undertaking meaningful community engagement. And that the Mayor's ballot could yet prove to be a more positive driver of the regeneration process than many expected, if developments are well thought through and meaningful engagement that involves communities is undertaken from the outset.